PFOS(polyfluoroalkyl substances(GenX): The Story Behind Dupont/3M's Chemical Found in Our Waters
https://www.nytimes.com/2016/01/10/magazine/the-lawyer-who-became-duponts-worst-nightmare.html
https://theintercept.com/series/the-teflon-toxin/
https://www.sciencefriday.com/segments/pfas-dupont-lawsuit-robert-bilott/
PFOS is being found in all our bodies of water and in our wells. Read the Robert Bilott's story and book, Exposure, of PFOS chemicals found on Wilbur Tenant's West Virginia farm in Parkersburg in the 1980-90's in the NY Times to find out the real effects of this chemical and its far ranging effects on our bodies and animal bodies.
https://factor.niehs.nih.gov/2019/3/feature/2-feature-pfas/index.htm
This is an article about the BIG PROBLEM of GenX PFAS chemicals found in NC rivers and lakes from March 2019.


PFAS — a problem in North Carolina drinking water
Speakers at a North Carolina State University symposium examined the problem of PFAS contamination in many state residents' drinking water.
BY SHEENA SCRUGGS https://factor.niehs.nih.gov/2019/3/feature/2-feature-pfas/index.htm
Researchers, community members, and others gathered Feb. 14 at the NIEHS-funded Center for Human Health and the Environment (CHHE) at North Carolina State University (NCSU), to discuss the environmental and health impacts in North Carolina of per- and polyfluoroalkyl substances, also known as PFAS.
"North Carolina is the third highest state for PFAS exposure," said Jamie DeWitt, Ph.D., from East Carolina University. "People who have certain types of PFAS exposure have health effects that include cancers, cholesterol diseases, pregnancy-induced hypertension and preeclampsia, and thyroid disease, among others."
EPA detected PFAS in the drinking water of 20 public water systems, across 11 counties in North Carolina.

These man-made chemicals are found in consumer products as varied as nonstick cookware, pizza boxes, and stain repellants. They do not break down, so PFAS can accumulate in the environment over time.
"In 2016, we found that PFASs were detected over vast stretches of the Cape Fear River Watershed," Knappe said during his talk. (Photo courtesy of John House)


What happened in North Carolina?
The Cape Fear River watershed is the largest watershed in North Carolina, according to Detlef Knappe, Ph.D., from NCSU. "It supplies about 1.5 million people with drinking water, and of that, about 1 million people are affected by wastewater discharges containing high levels of industrial contaminants." He shared a timeline of the river's chemical burden.
1980 — Fluorochemical production began at DuPont's Fayetteville Works plant, which merged with Chemours in 2015.
2007 — First documentation of a particular PFAS, known as PFOA, in the Cape Fear River, in part due to wastewater discharges from the plant.
2009 — In response to U.S. Environmental Protection Agency (EPA) PFOA Stewardship Program, Chemours began to replace PFOA with a chemical known as GenX.
2012 — GenX was first detected, along with other PFAS, in the Cape Fear River.
2014 — GenX was first detected in the city of Wilmington's drinking water.
2015 — Sampling was completed for the EPA's Unregulated Contaminant Monitoring Rule (UCMR3).
"Based on UCMR3 data, PFAS were detected in 20 public water systems, located in 11 NC counties," Knappe said, underscoring the extent of contamination.
Liam O'Fallon, director of the NIEHS Partnerships for Environmental Public Health program, noted the extent of the PFAS problem. "While the overall focus has been on exposures south of the Chemours facility, there are very high levels of PFAS in the Deep and Haw rivers, and, to date, no source has been identified," he said. "Community groups are concerned."
"How much emissions are coming from the Fayetteville Works facility?" asked Abraczinskas. "What's actually going on in the environment in ambient air?" (Photo courtesy of John House)


More than wastewater
Michael Abraczinskas, director of the North Carolina Department of Environmental Quality's (DEQ) Division of Air Quality (DAQ), and other researchers have long suspected that PFAS reaches drinking water through routes other than wastewater.
Their research suggested that PFAS emitted into the air falls back to earth in rainwater, which may be how these chemicals are carried to groundwater miles from the source.
The team measured relatively high levels of PFAS in rainwater samples up to 20 miles away from the plant. So DEQ required Chemours to reduce GenX air emissions and provide permanent replacement drinking water supplies for affected residents.


GenX Exposure Study
Jane Hoppin, Sc.D., and Nadine Kotlarz, Ph.D., shared results from the GenX Exposure Study of people in the Lower Cape Fear River basin. Hoppin serves as deputy director of CHHE.
"We did not find GenX in study participant's blood, suggesting that it has a very short half-life, or breakdown time, but we did find other newly identified PFAS," said Kotlarz, a postdoctoral researcher in Hoppin's lab.
The team identified a PFAS known as Hydro-Eve in a majority of the blood samples. "There is no toxicology data on this substance," Kotlarz said. "We don't know what this means in terms of health."
A research team from SAFEwater-NC captured an alligator to take blood samples and health measurements. (Photo courtesy of NSCU Belcher Lab)


The community weighs in
PFAS researchers know that these are not just scientific questions — people in communities across the state are affected. So symposium organizers included a panel of people working on the frontlines in their communities, including a Riverkeeper from Cape Fear River Watch, an environmental outreach programs manager, and a representative from the New Hanover Health Department.
"It was evident that community groups are very engaged and have important questions the scientists are trying to address," O'Fallon observed.
The session fostered a dialogue that took the event beyond the typical scientific meeting. "Many participants felt that was the highlight of the symposium," noted Hoppin.
From Science Friday, NPR November 1, 2019 https://www.sciencefriday.com/segments/pfas-dupont-lawsuit-robert-bilott/
PFOA has since been linked to testicular and kidney cancer, among other diseases. It is part of a larger class of perfluoroalkyl and polyfluoroalkyl substances (PFAS), which have now been detected in everything from polar bears in Svalbard to fish in South Carolina, and are estimated to be in the blood of over 98% of Americans.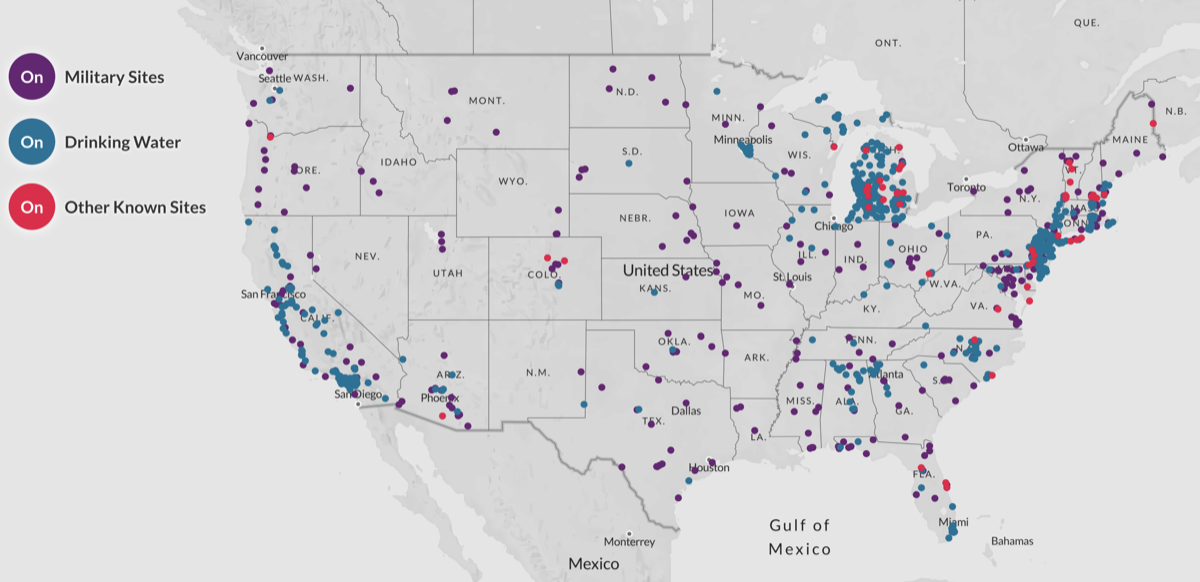 In the mid-2000s manufacturers started voluntarily phasing out PFOA and a related chemical, PFOS, but they substituted them with other PFAS chemicals, whose possible health effects are still being investigated and litigated.
Nearly two decades after Bilott wrote the EPA, the agency has not regulated these chemicals, but it says it plans to begin the process by the end of this year. Bilott, who previously secured a $670 million settlement from DuPont, is now suing DuPont, Chemours, and others on behalf of everyone in the United States who has PFAS in their blood.
This week, Robert Bilott tells Ira his story, now featured in his book, Exposure, and the movie, Dark Waters, out in theaters November 22. You can read an excerpt of Bilott's book here. 
Sharon Lerner of The Intercept also joins to discuss what is known about these chemicals, and what is and isn't being done to limit our exposure.
Response From DuPont And Parties
We contacted DuPont, its spinoff Chemours, and 3M for comment. In a statement to Science Friday, DuPont said it "does not make these chemicals in question" and that it has "a series of commitments around our limited use of PFAS—which includes eliminating the use of all PFOA/PFOS-based firefighting foams from our sites." 
Note that PFOA and PFOS are just two chemicals within the broader class of PFAS, which includes hundreds or thousands of compounds Manufacturers have voluntarily phased them out in the United States.
DuPont also stated it grants "royalty-free licenses to those seeking to use our PFAS water treatment resin technologies."
The DuPont spinoff Chemours, which inherited its Teflon line of products in 2015, has not responded to a request for comment. 3M declined to provide a statement, but directed us to materials about PFAS on their website.